Telford town centre £200m 'transformation' plans approved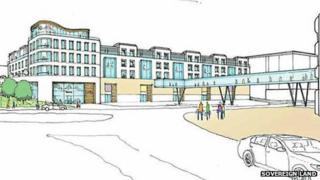 Plans for a £200m revamp of Telford Shopping Centre have been approved by councillors.
The one million sq ft (304 800 sq m) centre will almost double in size and new shops, cafes and restaurants will be built on the Red Oak car park site.
Proposals by developers Sovereign Land also include the building of a hotel and leisure complex in Central Square.
Telford and Wrekin council said the development would create 2,000 jobs and building would begin next Spring.
The work would be phased over the next five years and forms part of £450m redevelopment of Telford, the authority said.
It includes the £250m Southwater scheme, which is being built by Telford and Wrekin Council and leisure developers Citigrove.
Tim Binnington from Sovereign Land said: "What we're trying to do is bring in attractive retailers, leisure and food courts so that people want to come and not only shop but spend time in the centre."
He said he hoped it would attract shoppers who would normally go to Birmingham or Merry Hill.