Shrewsbury Amateur Boxing Club closes after 'rent hike'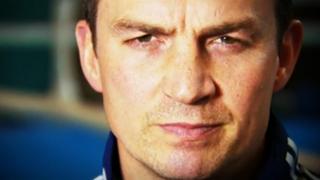 The boxing club which produced champions including Richie Woodhall and Shane Enright, has closed.
Shrewsbury Amateur Boxing Club launched in 1960 and had more than 100 members.
But bosses said they were forced to fold after Shropshire Council hiked their rent following an arson attack. Members have transferred to Salopian ABC boxing club, also in Shrewsbury.
Shropshire Council said it was the first time rent had been reviewed at the club for 12 years.
'Very frustrating'
Club coach David Robb said they were previously renting the John Davies Boxing Centre in Smithfield Road for £1,150 a year.
But after arsonists caused £15,000 damage at the building last year, Mr Robb said the council had warned him they would be increasing the fee to £4,500 a year plus VAT when it reopens.
Mr Robb said: "We produced two national finalists last year in Jimmy Price and Lenny Evans. We have worked with police to bring children to the club and get them off the estates.
"It's been going 53 years and now it's all over. It's very frustrating."
The club's members range from the age of seven to 40. They have included former WBC super middleweight world champion and Olympic bronze medallist Richie Woodhall and former England international Shane Enright.
A Shropshire Council spokesman said the rent had previously been subsidised.
"The council had also not previously implemented any rent reviews in accordance with the lease terms [over the past 12 years] but have now decided to review the rent following the recent fire damage and planned refurbishment," he added.
"The new proposed rent was set at £3,800 and not £4,500 - this is equivalent to £75 per week.
"The period of the lease had been set at three years to allow both parties flexibility in the future."