Dawley Town Hall £140,000 refurbishment to start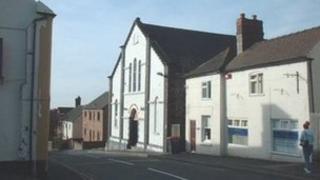 Work is due to start on the £140,000 refurbishment of a derelict town hall in Shropshire.
Dawley Town Hall, which has been empty since 2011, is to get a new roof and flooring. A new heating system and kitchen will also be installed.
The work starts on Monday and is expected to take about three months.
Great Dawley Parish Council announced in June it would move into the town hall from its current base at Dawley House, once building work had finished.
The council said it would rent out its offices in Burton Street to provide "much-needed" income.
The town hall will also be used to host community events and groups.
The building originally opened as a temperance hall in the 19th Century to encourage the area's mining community to come together, while promoting abstinence from alcohol.