Green Wood Centre in Coalbrookdale gets £50,000 revamp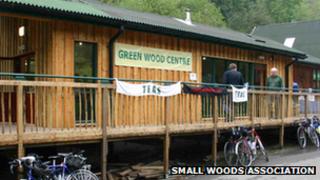 A woodland education centre in Shropshire is to get a £50,000 revamp.
The Green Wood Centre in Coalbrookdale, near Ironbridge is to install a new sawmill, a water recycling system, fencing and wooden tile roof.
The centre promotes sustainable living by running courses in woodland management and making furniture from locally sourced timber.
The project is being run by the Small Woods Association, which has its national headquarters on the site.
It said the work would be paid for by a grant of £40,000 from the Landfill Communities Fund, with £10,000 coming from other donors.
The association's chief executive, Mike Bentley, said: "This work will provide a place where people from across the UK will be able to learn about using wood more efficiently and how to live more sustainably.
"It will also be somewhere where they can get hands-on experience of how to make the most of our woodlands."