Uri Geller spoon gorilla appeal 'goes crazy'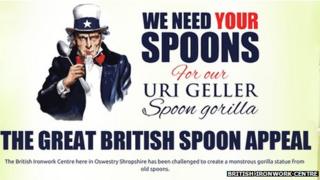 A public appeal for spoons to make a statue of a gorilla for entertainer Uri Geller has "gone crazy", organisers have said.
Spoons have been arriving from many places, including a silver one posted from New York.
Mr Geller plans to put the figure, which will measure 12ft (3.6m) in his garden in Sonning-on-Thames, Berkshire.
The statue is being made from 5,000 spoons by the British Ironwork Centre in Shropshire.
"We will be inundated with spoons," said Clive Knowles, managing director of the centre.
"We've started to receive a large influx of spoons both hand-delivered and in the post.
"We've even received a silver spoon which had been posted all the way from America."
Personalised spoons
Primary schools in Shropshire have set up their own collection points.
"One of [the schools] has 800 pupils, and if they each give a spoon we're a long way towards our target," Mr Knowles said.
"Although, of course, mums might go mad if the kids want to take their spoons."
Donors will be able to personalise the spoons so their names will be visible on the finished gorilla.
Mr Geller, who opens his garden to charity five times a year, said: "I use the sculptures in my garden to inspire sick children.
"I am not a healer, but when children see the items I have, they are in awe.
"I think it helps them to think positively."