More Ironbridge Gorge stabilisation work 'absolutely necessary'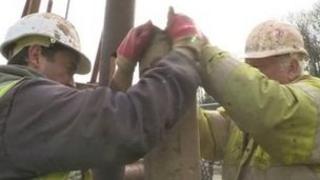 More stabilisation work to stop landslides in the Ironbridge Gorge is "absolutely necessary", engineers say.
Plans for the UNESCO World Heritage Site have been drawn up for further work, which began in March.
Telford and Wrekin planning officers are looking to underpin seven acres of land at Salthouse Road and Jackfield.
The council said the 600 metres of roads and footpaths would be realigned, with a new road, car park and river viewing area being built.
'Constant movement'
The scheme would take two years to complete and would be paid for from £12m of government funding, it said.
The authority drilled bore holes between the Jackfield tile museum and the Boat Inn earlier this year to monitor the movement of the land.
A new planning report said: "The ground monitoring undertaken in this area is disturbing, showing constant movement, most recently over the winter."
It warned that Ironbridge Gorge could eventually become blocked by a landslide, causing flooding for local residents and businesses in the area, if no more work was done.
The plans will be discussed at a meeting next week.