Shrewsbury's Lord Hill statue: Friends group launched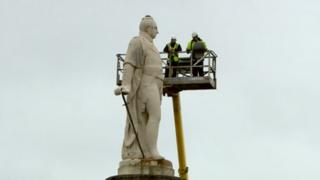 A group is being launched to help raise £350,000 needed to replace a crumbling statue of Lord Hill in Shrewsbury.
The Grade II-listed statue on top of a 133ft (40.5m) high column was cordoned off in April last year after cold and wet weather caused its deterioration.
Keith Barrow, leader of Shropshire Council, said the Friends of Lord Hill's Column will help look after the monument and arrange fundraising.
The group was launched at a meeting at the Shirehall in Shrewsbury.
Mr Barrow has said he is "confident" the money needed can be raised.
Shropshire Council, Shrewsbury Town Council, Shropshire Tourism and the Waterloo Association are all involved in launching the group.
Built in 1816, the Lord Hill statue is 13ft (4m) higher than Nelson's Column in London.
It was dedicated to Gen Rowland Hill, who was born in Shropshire and served as second-in-command to the Duke of Wellington at the Battle of Waterloo.