Shropshire roofer Ben Taylor given military honours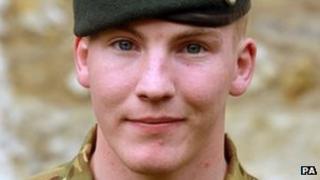 A Shropshire roofer and army reservist has been awarded a military honour.
Rifleman Ben Taylor was recommended for the Queen's Gallantry Medal after he risked his life to save his colleagues from a submerged vehicle.
The 21-year-old from Shrewsbury joined the army reserves because he "fancied a challenge", and said he was still in shock about the award.
His honour citation said he displayed "immense physical courage and determination".
Rifleman Taylor is among 117 servicemen and women recommended for an award by their commanding officers for performing beyond the call of duty.
He signed up as a reservist when he was 17, and said: "I didn't really think about active service at the time."
On his first operational tour in Afghanistan he became a top cover gunner in a Mastiff armoured vehicle assigned to covertly insert a sniper team into an Afghan national army checkpoint in Helmand Province.
The armoured vehicle rolled down a steep bank into a canal, coming to rest on its roof, half submerged in water.
Repeatedly dived underwater
Rifleman Taylor was trapped, had to remove his body armour to escape, and was then swept away by the current.
Despite suffering a back injury he swam back to the vehicle to help his trapped colleagues.
He said: "The turret was underwater, submerged, as the vehicle was upside down. It was half full of water and was filling up, so I was trying to get the lads out.
"I knew I had to help them but I had no protection or anything, no weapon, no body armour."
Rifleman Taylor repeatedly dived underwater to guide the men out in a rescue effort that took about 40 minutes.
He injured his back in the incident and had to be flown home early, serving four-and-a-half months instead of six.
He hopes, once recovered from his injury, he can return to work as a roofer or become a full-time member of the armed forces.
The Queen will present medals to those on the military honours list at a ceremony at Buckingham Palace later this year.