Wenlock Edge quarry wildlife 'restoration' work starts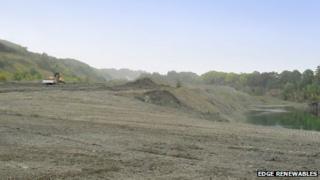 Work to turn part of a former quarry into a natural habitat for wildlife has started.
Edge Renewables was given planning permission for the work at Wenlock Edge Quarry, Shropshire, in January.
The firm has removed the redundant quarry buildings and started landscaping work to reshape the area for insects and amphibians.
Katy Bickerton from Edge Renewables said the plan was "to return as much of the site back to nature as possible".
"The general public will eventually be able to walk in the area," added Ms Bickerton.
About 200 letters of objection to the firm's plans had been received by the county council with people worried about the impact on the environment, landscape and protected species.
The National Trust had wanted to take over the site to provide an area for tourism including climbing activities and canoeing.