Church Stretton residents plan their own health centre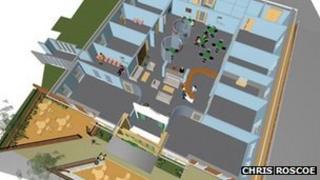 Residents in a Shropshire market town are raising money to buy and set up their own local health centre.
The Community Wellbeing Appeal in Church Stretton needs £1m to purchase and restore a semi-redundant building next to a GP surgery.
"Rather than have a block of flats built on it, we would rather have a local resource," said Bob Welch, leader of the campaign.
He plans to open a centre where medical and social services are housed.
The building has been granted planning permission, and the appeal group said in the long-term it would be self-financing from rental income.
Mr Welch admitted the scheme was "ambitious" in its drive to raise £100,000 by Christmas.
Mr Welch, who is a former consultant in social care, said every local family would benefit so a pledge from people living in the area "would be a most worthwhile investment".