Two men suffer electric shocks at farm near Chetwynd Aston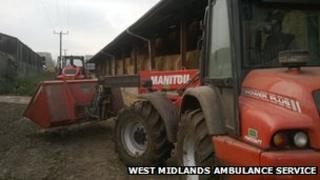 Two men were knocked unconscious from "serious electric shocks" after coming into contact with high voltage power cables on a farm in Shropshire.
Crews from West Midlands Ambulance Service and the Midlands Air Ambulance were called to a farm near Chetwynd Aston at 13:40 BST.
The two men, one aged 21 and the other in his 50s, were conscious but disoriented when crews arrived, a spokesperson said.
The pair were taken to hospital.
"Crews were told the two men were in a tractor bucket when the tractor made contact with overhead live electricity cables," an ambulance spokesperson said.
"Upon arrival of the crews, the men had regained some level of consciousness but were disoriented and suffering the effects of a significant electric shock."
The younger man sustained a number of small full thickness burns to his body and was airlifted to University Hospital North Staffordshire.
The second man suffered no apparent external injuries but was taken to Princess Royal Hospital for further treatment, the service said.