Telford 'box road' scheme wins extra funding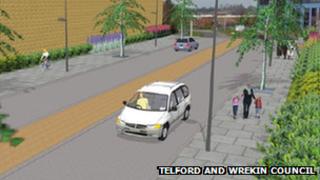 A major road scheme in Telford has been awarded a further £1.1m grant by the government.
The first phase of work on the "box road" around the town centre is expected to start on 30 September.
The £11.8m project, which is due to finish in spring 2015, will see the road made two-way and a central reservation built.
Telford and Wrekin Council's scheme has already received £6.7m of funding from the Department for Transport.
The local authority said the changes to the road system would improve traffic flow and safety, as well as provide better access to the new £250m Southwater development, currently under construction.
Plans for the box road also include new footpaths, traffic lights and lighting.
The latest grant is specifically for work on Malinslee roundabout, part of the first phase.
It is expected for be completed by January, in time for the Southwater opening.
Telford and Wrekin Council said the scheme would also see some road closures.