WWII Dornier bomber conservation wins grant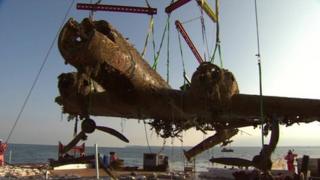 A project to conserve a German World War II bomber salvaged from the English Channel has been awarded £75,000 to develop a high-tech exhibition.
The badly-damaged Dornier Do-17 aircraft is currently undergoing work at the RAF Museum in Cosford, Shropshire.
It is being sprayed in tunnels to fight the effects of seawater corrosion.
The grant, from computer game developer Wargaming, will fund an exhibition at Cosford from 16 October.
The RAF Museum said it would work with Red Loop, the Middlesex University Design and Innovation Centre, to tell the story of the Dornier's recovery off the Kent coast and its conservation.
Alongside physical displays, it said the project would also include augmented reality - allowing people to use their mobile phones to see how the Dornier would have flown in 1940.
The aircraft was shot down over the English Channel during the Battle of Britain.
It sustained considerable damage in the crash, as well as the effects of more than 70 years of seawater corrosion, until its recovery in June.
The RAF Museum said the exhibition was expected to be supported by a new website to follow progress on the conservation project.
Stopping further corrosion and stabilising the various metals alone is expected to take up to 18 months.