Muller Wiseman Dairies close to completing Market Drayton butter plant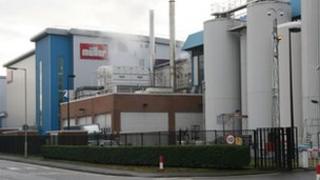 Work on a £17m butter plant in north Shropshire is nearing completion.
Muller Wiseman Dairies said the factory - the largest of its kind in Britain - is due to start production in the next few weeks.
The facility, based at Muller's UK headquarters in Market Drayton, is expected to create about 100 jobs.
It is designed to process some 90,000 tonnes of cream a year and produce about 45,000 tonnes of butter, mainly for the commercial sector.