Ludlow hospital: GPs criticise plans to scrap £27m scheme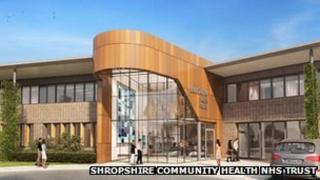 Doctors have said scrapping plans for a £27m community hospital is "short-sighted and disappointing for rural healthcare.
The Shropshire Community Health Trust scrapped plans for their hospital in Ludlow.
Shropshire Clinical Commissioning Group was asked by the trust to plug a shortfall in funds for the plans.
But the group said it could not plug the £1.1m annual shortfall.
Four of the six doctors who work at Ludlow's Portcullis Surgery issued a joint statement, which said: "This decision shows a lack of commitment to rural healthcare.
"If in six months time, a review of healthcare services suggests more should be provided in community settings then this decision will seem even more short-sighted."
Refurbishment of the current Ludlow Community Hospital costing £160,000 could be approved instead, health authorities said.
The doctors said that despite the decision, they are "committed" to promoting the need for improved health care in rural areas.