Former soldier Jim Geraghty funeral paid for by pub auction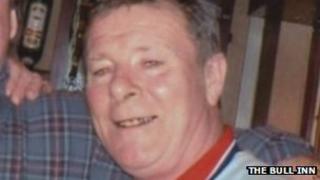 Regulars at a Shropshire pub have raised more than £1,000 to pay for the funeral of a former soldier, who died of lung cancer.
Jim Geraghty, 66, from Shrewsbury, served in Northern Ireland with the Royal Scots Dragoon Guards.
He died earlier this month with no will, property or money, so the owners of the Bull Inn in Shrewsbury held an auction to raise money for his funeral.
The service took place at Shrewsbury Cathedral on Thursday.
Landlady Renate Payton said Mr Geraghty had never married and had no children.
After he had been diagnosed with lung cancer in February, Mr Geraghty lived with her and her partner at the pub, she said.
"We absolutely adored him, he was a well respected man and had done his time in the army so he deserved something for just doing that," she said.
"We had to give him a proper send-off because we loved him and he deserved a funeral a lot better than what was originally offered."