New Ludlow Hospital plans dropped by health trust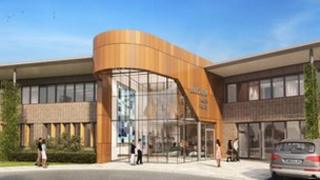 Plans for a £27m community hospital have been scrapped.
The Shropshire Community Health Trust decided to ditch the plans for Ludlow, which were recommended "not to proceed".
Refurbishment of the current Ludlow Community Hospital costing £160,000 could be approved instead.
Shropshire Clinical Commissioning Group has previously said it could not plug a £1.1m annual shortfall, threatening the £27m plans.
Last month, the community health trust said it could scale back services at the new hospital or seek to improve the town's current hospital.
'Sticking plaster' solution
Peter Corfield, chairman of Ludlow Hospital League of Friends, said the refurbishment plans were a "sticking plaster".
"It's a great disappointment, a disaster I would say," he said.
"The board have been misled by their directors into believing all the figures stacked up, they clearly said last year that all the funding was available.
"They've been riding a runaway horse."