Shropshire Council: 700 staff volunteer for redundancy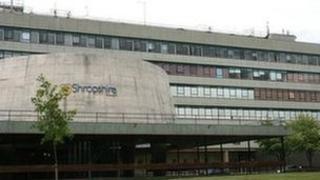 More than 700 members of staff at Shropshire Council have asked to be considered for voluntary redundancy, the council has said.
The authority has to save £80m over the next four years, on top of the £87m it has cut since 2011.
Keith Barrow, leader of the Conservative-run council, said the workforce of 4,674 had to be halved.
The Unison union said the 50% cut was impossible without compulsory redundancies.
Rick Tudor, regional organiser for Unison, said voluntary redundancies would be "a drop in the ocean".
"This is an unrelenting onslaught," he said.
Mr Barrow said he would look to make savings elsewhere and was keen to sell the council headquarters, the Shire Hall, as soon as possible.
Shropshire Council will hold a public consultation on which services should be protected from budget cuts.
"I've asked people on the street for their opinions," Mr Barrow said.
"It's funny, everyone's really good at telling me where to spend money, but no-one can tell me where to cut it."