Telford councillors appeal to keep Princess Royal A&E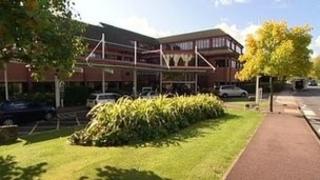 Councillors are appealing to the health secretary to keep 24-hour emergency care at the Princess Royal Hospital.
At a meeting on Thursday, Telford and Wrekin councillors unanimously voted to back the Telford hospital and write to Jeremy Hunt and hospital bosses.
The trust that runs the Princess Royal and Royal Shrewsbury hospitals said it would be unrealistic to assume both would keep their A&Es.
The leader of the council said the vote reflected the wishes of the electorate.
Kuldip Sahota said: "I have no objection to having A&E on both sites, but we are elected by the Telford and Wrekin people and we are fighting for A&E at Telford."
The leader of the Conservative group, Andrew Eade, said: "This is a real fight. The first thing to do is to get guarantees of A&E cover on that site."
In March, it was revealed both hospitals had failed this year to treat and discharge 95% of patients within the four-hour target.
Hundreds of routine operations were also cancelled because of pressures on A&E and bed shortages.