Müller Wiseman plant blocked by farmers in milk protest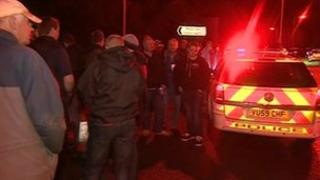 Dozens of farmers blockaded the Müller Wiseman processing plant in Shropshire in protest over the price of milk.
Although farmers now receive a higher price per litre than last year, the protesters said they are still making a loss due to rises in production costs.
Müller Wiseman Dairies called the action at their site in Market Drayton "illegal and indiscriminate".
A separate protest on 5 September saw about 100 farmers and 20 tractors block the Morrisons depot in Somerset.
Farmer Paul Rowbottom, who runs a farm in Staffordshire, helped coordinate the Market Drayton action.
'Major disruption'
"All these big companies are making big investment for their businesses but farmers are struggling," he said.
"We can't pay our bills."
A Müller Wiseman Dairies spokesman pointed out that although farm costs had increased, farmers supplying the firm typically earned the equivalent of £66,000 a year more for their milk, compared with market returns at this point last year.
"We are determined to maintain a leading milk price and we have a positive commitment to the competitiveness of our proposition," he said.
"Despite this, militants have decided to ignore those in the industry who are neither competitive with their milk price nor compliant with the voluntary code of practice, and target our business.
"This illegal and indiscriminate action risks causing major disruption for employees and for dairy farmers who need milk to be collected from farms."