'Confident' cash will be found for Shrewsbury's Lord Hill statue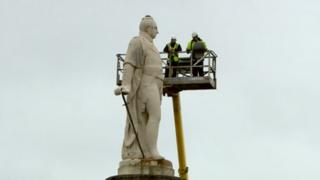 Hundreds of thousands of pounds needed to replace a crumbling statue of Lord Hill in Shrewsbury will be found, a council boss has said.
Dozens of people backed proposals to replace the statue at a meeting on Monday, despite the £350,000 cost.
Shropshire Council leader Keith Barrow wants to organise a dinner and is also setting up a "friends group" to apply for grants.
He said he was "confident" the total could be achieved.
The Grade II-listed statue on top of a 133ft (40.5m) high column was cordoned off in April last year after cold and wet weather caused its deterioration.
Battle of Waterloo
"We have time on our side," said Mr Barrow.
"Once we commission the job it will take 18 months to build him.
"People understand the his importance, not only to Shrewsbury but to Shropshire."
Built in 1816, the statue is 13ft (4m) higher than Nelson's Column in London.
It was dedicated to Gen Rowland Hill, who was born in Shropshire and served as second-in-command to the Duke of Wellington at the Battle of Waterloo.
Short-term repairs on the current statue cost of up to £60,000 every five to 10 years.