Robert Barlow death: Jordan Lawson admits manslaughter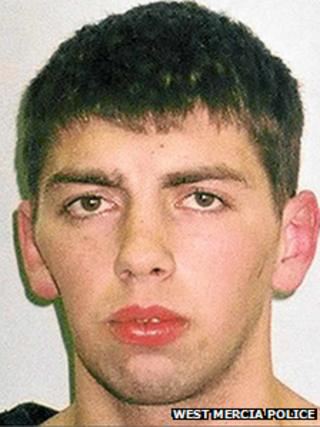 A teenager has admitted killing and robbing a man in Shrewsbury because he wanted money for a night out.
Jordan Lawson, 19, was originally charged with murder but pleaded guilty to the manslaughter of Robert Barlow at Stafford Crown Court on Monday.
Mr Barlow died from a heart attack near his home in Reabrook Avenue on 18 May after Lawson assaulted and robbed him.
Lawson, of Stephenson Drive, Shrewsbury, was remanded in custody to be sentenced at a date yet to be fixed.
Lawson also admitted four counts of robbery but pleaded not guilty to intimidating a witness.
'Cowardly and vicious'
West Mercia Police said Mr Barlow was a family man with a wife and two daughters who had been returning home after visiting his local pub.
Lawson attacked Mr Barlow from behind, barging into him and throwing him into a wall, it said.
He forced him to the ground before stealing his cash card.
Lawson ran to a cash machine close to the nearby Cineworld cinema and withdrew £250 before running off, the force said.
Police said the attack "undoubtedly triggered the heart attack from which he [Mr Barlow] died".
Det Insp Mark Bellamy said: "It was a premeditated attack as he was waiting for a suitable victim to pounce on.
"He urgently needed money for a pre-arranged night out and was obviously willing to use violent means to obtain it.
"The assault was cowardly, pre-planned and vicious in its execution."