Shropshire Hills Discovery Centre may be offloaded by council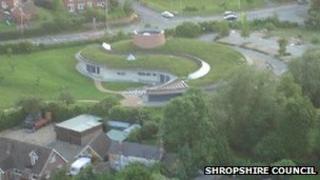 A tourist attraction could be taken over by a housing association in a bid to save a council money.
Shropshire Council is looking at transferring the running of Shropshire Hills Discovery Centre and the adjoining Onny Meadows to South Shropshire Housing Association [SSHA].
The £2.4m centre at Craven Arms opened in 2001 and costs the council £120,000-a-year to run.
SSHA wants to turn part of the site into a food training centre.
The transfer has been suggested as Shropshire Council looks to save £80m over the next four years.
The Conservative-run council has already cut more than £86m from its budget since 2011.
'Exciting opportunity'
Councillor Lee Chapman, who is also chairman of the Shropshire Hills Discovery Centre advisory board, said: "It's not the case the council wants rid of it.
"It just wants to take control of large revenue budgets that are difficult to justify in the current climate.
"With the pressure the council is under it's extremely difficult to justify something like this."
SSHA and its partner, Grow Cook Earn, want the food training centre to explore the link between the local landscape and what people eat.
Tim Ralphs, SSHA chairman, said: "This is a resource that will be both informative and practical for both the community and visitors alike.
"This is an exciting opportunity and we look forward to working with local people and partners to develop this project further."
The discovery centre houses a library, cafe and exhibition space and employs about 12 people.