Muller buys Nom Dairy UK for undisclosed sum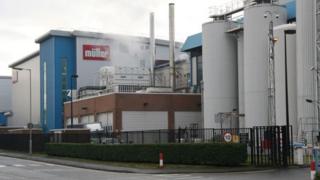 Food giant Muller has announced it has bought fellow dairy business Nom UK for an undisclosed sum.
The UK arm of Austrian company Nom was set up in Telford in 2009 and has an annual turnover of £43m.
Muller UK, based in nearby Market Drayton, said the move would allow it to further develop its yogurt market.
It follows Muller's acquisition of milk processor Robert Wiseman Dairies and a chilled desserts plant at Minsterley, Shropshire, in recent years.
'Biggest and best'
The company now processes and delivers more than 30% of all fresh milk consumed in Britain and has a huge stake in the wider dairy industry.
It is currently building Britain's biggest butter-making facility at its Market Drayton factory.
Ronald Kers, chief executive of Muller UK said: "We want to be the biggest and best dairy company in the UK and by acquiring this excellent facility we can increase the range of private-label yogurt products made with milk from British farms, which in turn can reduce the UK's dependence on imported dairy products.
"We are ambitious for the future and we very much look forward to working with the team at Telford and our customers to realise the significant potential of this facility."