Ludlow's Castle Weir gets repairs and a fish pass for salmon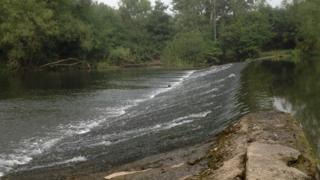 Work has begun to repair a historic weir in a Shropshire town and to install a fish pass.
The charitable trust that owns the Castle Weir in Ludlow said inspections had revealed damage beneath the waterline.
Grants totalling £98,000 from Shropshire Council and the Veolia Environmental Trust will help pay for the work.
The Environment Agency will install a fish pass at the weir at the same time.
Paul Nicholls, from the Dinham Millennium Green Trust, said: "The weir is very important to Ludlow, not least for its historical and scenic attributes, and after inspections revealed damaged structure beneath the waterline, we couldn't afford to delay [the repairs]."
Video link
The trust, which is made up entirely of volunteers, took over ownership of the weir, a mill and the Millennium Green in 1998.
Steve Charmley, from the council, said the money they have given comes from the Market Towns Revitalisation Programme.
"The site is an important part of Ludlow for locals and tourists alike and I'm pleased to see the funds from the programme help these worthwhile works," he said.
At the same time as the repair work is going on the Environment Agency, with Severn Rivers Trust, are installing a fish pass through meadowland at the weir's north-western end.
This needs to be completed by October when salmon move upstream to spawn.
The trust said low water levels in 2011 meant that many fish failed to make the journey.
A video link, showing fish using the pass, is planned to be screened in the Mill on the Green, a 14th Century corn mill owned and run by the trust.