'Shakespeare's school' enrols girls for first time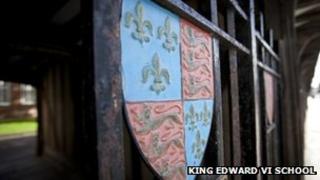 Shakespeare's former school has opened its doors to girls for the first time in its 460-year history.
More than 30 girls have started the September term taking their A-levels at King Edward VI School in Stratford-upon-Avon.
More than 200 girls from 38 schools applied for sixth form places at the Church Street school.
Head teacher Bennet Carr said: "The Bard would have seen girls as a great addition to the school."
He added: "Research shows male and female students tend to bring different learning styles, approaches and perspectives to their A-level studies and both genders benefit from seeing how each other work."
The move follows a unanimous decision by the school's board of governors in 2011, after previous proposals to admit girls were initially rejected in 2002.