Petition for Shrewsbury to London rail service gets 4,000 signatures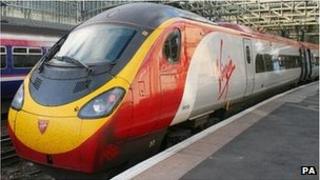 A petition calling for a direct rail link between Shrewsbury and London to be restarted has been signed by about 4,000 people, campaigners have said.
Virgin Trains submitted new plans to run the twice-daily service last month.
They have been previously rejected twice after Network Rail said the line could not cope with extra traffic.
A group of Shropshire MPs are meeting with officials from the Office for Rail Regulation who rejected the train operator's subsequent appeal.
The MPs will present the petition to Parliament later this week.
'Detrimental impact'
The petition, which has been organised by the Shropshire Star newspaper, has been signed by 3,800 people, the MP for Shrewsbury, Daniel Kawczynski said.
"We are only one of two county towns which doesn't have a direct train service to London and that has a detrimental impact on inward investment and tourism," he said.
"We are only talking about two, or possibly three, return journeys a day, it's ludicrous that Network Rail are saying the line can not cope with extra services."
Shropshire has been without a direct rail link since 2011, when the Wrexham and Shropshire service to London ended.
A spokesman for Network Rail said: "The line is all but full and currently cannot cope with additional services.
"Our analysis, backed by the rail regulator, has shown it will have a detrimental impact on the performance for all users on the route.
"We have always said that when performance improves, additional services might be something we could consider again in the future."