Oswestry hill fort homes plan attracts 5,000 objections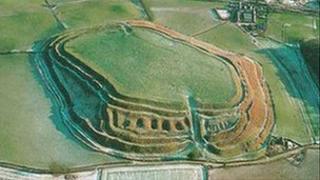 More than 5,000 people have objected to plans to build 188 new homes near an Iron Age hill fort.
The plans would see homes built near the foot of Oswestry's ancient hill fort in Shropshire.
The site is rumoured to be the birthplace of King Arthur's wife, Guinevere, and is protected by English Heritage.
The homes would be built off Gobowen Road and Oldport Farm. A public consultation ended last Friday.
Mal Price, from Shropshire Council, said that the development had the potential to "provide a vast improvement to parking and access at hill fort".
Petition founder, John Waine, said campaigners want Shropshire Council to look at preserving and enhancing the site for future generations.
He said earlier this month: "This is recognised as the best preserved Iron Age fort in Britain. Modern houses should not be built up to the edge of it."
A total of 5,620 people have objected to the plans.