Royal Shrewsbury hospital A&E: 5,000 sign petition to save services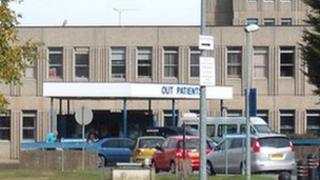 More than 5,000 people have signed an online petition calling for the Royal Shrewsbury Hospital to keep its accident and emergency department.
Earlier this month, the chief executive of the Telford Princess Royal and Royal Shrewsbury hospitals said it was "unrealistic" both would keep A&E.
A consultation process has been started into the future of emergency care.
The online petition was launched by councillors in mid Wales worried about how far patients would have to travel.
'Extra mileage'
Powys county councillor Joy Jones said: "It's quite difficult already to get to Shrewsbury because of the mileage.
"Also the roads that ambulances travel on are all single carriageway until we get to the town itself so, dependent on the traffic, it can take 40 minutes to an hour.
"To have to do the extra mileage to Telford it's another significant amount of time to wait for someone to be treated."
Peter Herring, from the Shrewsbury and Telford NHS Trust, said earlier this month he wanted to encourage debate about the future of healthcare in Shropshire.
He said that the NHS maybe had to "stop thinking about traditional A&Es".
In March, figures showed both hospitals had failed to treat and discharge 95% of patients within four hours since the start of 2013.
Hundreds of routine operations were also cancelled because of pressures on A&E and bed shortages.