Ditherington Flax Mill site: Ex-workers in tour before demolition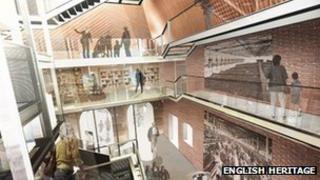 Former workers are being invited to the site of the world's first iron-framed building before demolition work starts.
Ditherington Flax Mill in Shrewsbury is undergoing a three-year regeneration after securing £12.8m from the Heritage Lottery Fund.
The project will adapt a number of listed buildings, including the 1797 mill, a kiln, an office and stables, which will become offices.
People will tour the South Silo before it is knocked down next month.
After the mill closed down in 1886 the site was turned into a maltings for the brewery industry, until its closure in 1987.
Former engineers, drivers and technicians who worked at the maltings will be among those at an event held by the Friends of the Flaxmill Maltings on Tuesday evening.
The site in Ditherington, on the outskirts of Shrewsbury town centre, contains seven listed buildings including the world's first iron-framed building, according to English Heritage.
The organisation took over the buildings in 2005 and created its redevelopment plan alongside Shropshire Council, the Friends of the Flaxmill Maltings and the Homes and Communities Agency.