Telford and Wrekin councillors back calls to keep Princess Royal A&E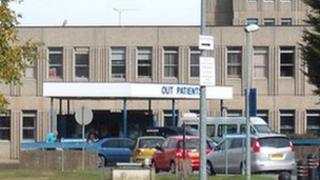 Councillors have started a campaign calling for a full 24-hour accident and emergency unit to stay at Telford's Princess Royal Hospital.
Earlier this month the chief executive of Royal Shrewsbury and the Telford hospital said it would be unrealistic to assume both would keep their A&Es.
A consultation process has been started into the future of emergency care.
Kuldip Sahota, leader of Telford and Wrekin Council, said there was "no room to manoeuvre" on the issue of A&E.
A motion has been drawn up for the next full meeting of the council on 12 September committing the council to campaigning for the retention of the present A&E service at the hospital.
Mr Sahota said he hoped it would receive cross-party support.
'What residents want'
He added: "We have shown in the past that we are willing to listen and compromise on how our health services are delivered to enable savings and efficiencies to be made and to ensure that services are delivered in the most effective way.
"But the one thing where we believe there is no room for manoeuvre is the issue surrounding the accident and emergency department. Telford has to have one and we believe that is what our residents want."
Peter Herring, from the Shrewsbury and Telford NHS Trust, said earlier this month he wanted to encourage debate on the subject, saying that maybe they had to "stop thinking about traditional A&Es".
In March it was revealed both hospitals had failed to treat and discharge 95% of patients within four hours since the start of 2013.
Hundreds of routine operations were also cancelled because of pressures on A&E and bed shortages.