Fears for Guinevere's Oswestry Hill Fort over homes plan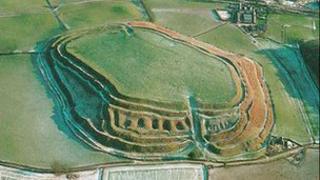 An Iron Age hill fort rumoured to be the birthplace of King Arthur's wife Guinevere could be damaged if 188 houses are built nearby, campaigners say.
They are opposing plans to build the new homes near the foot of the ancient Hill Fort in Oswestry, Shropshire.
An online petition has drawn more than 1,300 signatures calling for the plans to be scrapped.
The homes would be built off Gobowen Road and Oldport Farm.
Petition founder John Waine said: "This is recognised as the best preserved Iron Age fort in Britain and the development would be potentially damaging.
"Modern houses should not be built up to the edge of it."
Mr Waine said petitioners wanted Shropshire Council to look at preserving and enhancing the site, which is protected by English Heritage for future generations.
Council spokesman Simon Alton said: "We appreciate the sensitivities regarding these sites.
"Comments have been considered from both the council's historic environment officers and English Heritage about potential development in these locations.
"All comments will be taken into account before any decisions are made."