Rare New Zealand goats get new home in Telford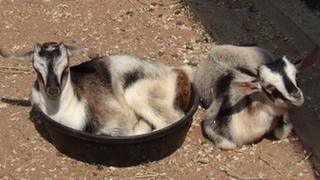 Two rare goats have been donated to a Telford animal sanctuary in a bid to rebuild their population.
The five-month-old Arapawa goats are believed to be the only examples of the breed currently on public view in the UK.
They were donated to Telford's Lakeside Animal Sanctuary by a private collector in Staffordshire.
There are about 300 of the goats left in the world, six of which have been imported to the UK since 2009.
Keepers at the sanctuary now plan to bring in a male from their native New Zealand home, in an effort to increase the UK Arapawa population.
Ebony Clay, wildlife director at the animal sanctuary, said: "These goats are incredibly rare and are not available to see in any other zoo or public farm collections inside the UK.
"There are only a very small handful of these goats in the UK, and we are able to offer them our support and hopefully in the future, to be able to breed them.
"We are now on the lookout for a boy to come and join them, and plans are afoot to bring a male in from New Zealand, which will help us replenish their bloodlines."