Shrewsbury care home residents get 'pub' in garden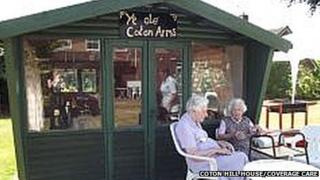 A "pub" has been set up in the grounds of a care home in Shrewsbury after residents were asked for suggestions for the garden.
Coton Hill House expected requests for flowers or benches but pensioners instead called for somewhere they could enjoy their favourite tipple.
The opening of Ye Ole Coton Arms summerhouse was celebrated with a barbecue and free bar.
It will stay open for the rest of the summer.
Alison Gough, manager at the Berwick Road care home, said: "At first it was a bit of a joke, but the more we thought about it, the more it seemed like a really good idea.
"The idea came from Ken Treherne, 84, and Eric Shingler, 81, who have both been residents here since 2012."
Once the idea was given the go-ahead, staff set to work.
Mrs Gough said: "Our handyman Larry Jones has done a great job of converting our empty summer house into a private pub, and it is decorated inside with pictures, posters and vinyl records, to give it a retro feel and look.
"He has also been responsible for installing optics and the beer barrel and installed a fully functioning bar.
"The residents have great fun and really enjoy themselves in there. They feel completely relaxed and at home.
"It is free of charge to all residents, and, as expected, is proving to be very popular with them."
Mrs Gough said that while the residents enjoy the odd tipple, their drinking is very carefully monitored to ensure there are no ill-effects.