Sabrina Court and Hartley's day centres to close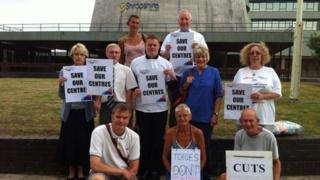 Two day centres for adults with learning disabilities in Shropshire are to close.
Sabrina Court and Hartley's in Shrewsbury are to shut while a facility on Innage Lane in Bridgnorth has been saved from closure while a review is carried out, Shropshire Council said.
Centres on Lorne Street and Avalon in Oswestry will also close once a new unit has been built to replace them.
The council said declining user numbers at the centres had prompted the action.
Up to 463 people were using day centres in July compared with nearly 600 a year before, it said.
The authority also said last month that the buildings no longer being fit for use was also a factor.
Demonstrators voiced their anger at the plans outside Shropshire Council earlier.
Councillor Tim Barker, who is in charge of adult services, said the authority would conduct a full assessment of Bridgnorth facilities but accepted it was the only centre in the area.
The council said it would work with those who use the affected sites and their carers to help find alternative activities.