Shrewsbury to London rail plans rejected again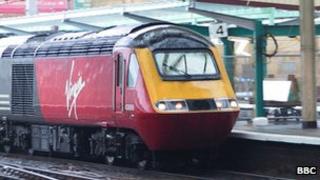 Plans for a direct rail link between Shrewsbury and London have been rejected for a second time.
Virgin Trains had hoped to launch a new twice-daily service in December on the West Coast Main Line (WCML).
Those proposals were blocked by Network Rail in February, who said the WCML could not cope with extra traffic.
Virgin appealed the decision, which the Office of Rail Regulation (ORR) has now rejected, echoing Network Rail's concerns.
Last month, calls to establish the service were raised in the House of Commons by Shrewsbury and Atcham MP Daniel Kawczynski.
He said the latest decision was a "bitter blow" but he plans to appeal it.
Richard Price, ORR chief executive, said: "We understand that many people will be disappointed that we cannot at this stage give the go-ahead for new direct train services between Shrewsbury and London.
"Our analysis shows the introduction of new services would see performance deteriorate on this key route for passengers."
He added it was hoped improvements to the WCML by Network Rail means new services can be looked at again in the future.