South Shropshire gold ring declared 'treasure'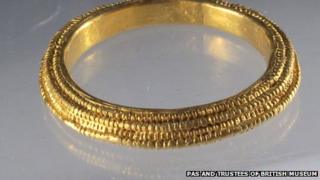 A coroner has ruled that a 1,500-year-old gold ring found by a metal detectorist is treasure.
It was found in south Shropshire in August.
Peter Reavill, finds liaison officer for the county, said Shropshire Museums would like to buy the ring.
The treasury will now appoint an expert to decide an open market value for it. Proceeds of any sale would be split between the discoverer and the owner of the land where it was found.
'High status'
Experts at the British Museum said the ring, which weighs 8.21g (0.3oz), is 93% gold.
Their report said it probably dated from the early medieval period, the beginning of the Dark Ages after the end of the Roman occupation of Britain.
Mr Reavill said: "The really interesting part from a county view is that it has been found in south Shropshire, which is not known for its high status post Roman sites."
For an item to be declared treasure it has to be more than 300 years old and has to contain more than 10% precious metal.
The Shropshire coroner, John Ellery, ruled that the ring was treasure at an inquest held in Bridgnorth.
The British Museum has said it would attempt to buy the ring "should local efforts fail".