Lord Hill statue in Shrewsbury to be repaired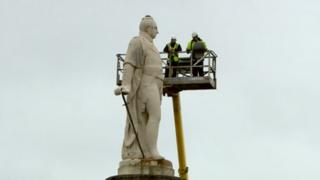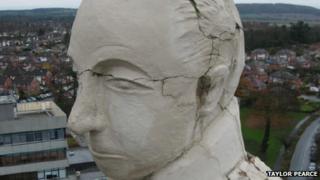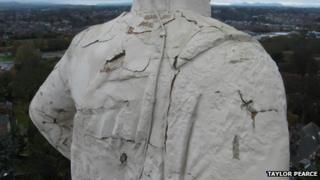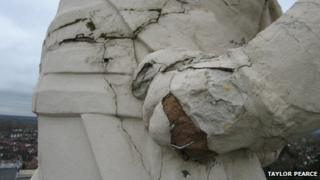 A statue on top of a 133ft (40.5m) high column is to be repaired after masonry fell from it.
The Grade-II listed statue of Lord Hill in Shrewsbury, has been cordoned off since April last year, after cold and wet weather caused its deterioration.
English Heritage has decided on the cheaper option of repairing the statue rather than replacement.
Shropshire Council said it did not know how much repairs would cost and was looking for a firm to do the work.
The authority also plans to apply to English Heritage for a grant for 25% of the projected cost.
A report by engineers Taylor Pearce for the council said: "The cost to erect scaffold and carry out repairs, albeit extensive repairs, is considerably cheaper than the costs of removing the sculpture and installing a new one."
'Repaired in situ'
The statue was built in 1816 and is 13ft (4m) higher than Nelson's Column in London.
It was dedicated to Gen Rowland Hill, who was born in Shropshire and served as second-in-command to the Duke of Wellington at the Battle of Waterloo.
He later succeeded the duke as Commander in Chief of British forces.
Shropshire Council said scaffolding would go up in August and, once in place, would allow the safety cordon to be reduced, providing pedestrian access to Preston Street and Processional Way,
Council leader Keith Barrow said: "As English Heritage has recommended that the statue be repaired in situ, we'll now carry out the necessary repairs as soon as possible."
He said the council wanted people to get in touch for their views about the statue's long-term future.