Firefighters rescue horse from Strine Brook bog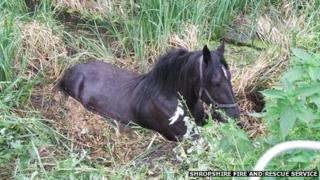 Firefighters were called to rescue a horse from a bog in Shropshire.
It took Shropshire Fire and Rescue Service about an hour-and-a-half to haul the horse, which was shoulder deep in mud and water, out of the Strine Brook, near Newport.
A passer-by spotted the animal stuck at about 08:00 BST.
The horse was not injured and was handed to the RSPCA as its owner was not present, the fire service said.