Weather-hit Ludlow farm imports Italian bees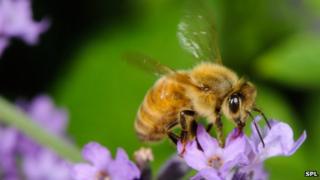 A farm in Shropshire has imported bees from Italy after the wet winter and a slow start to spring saw their stocks dwindle.
The Plymouth Estate, near Ludlow, has lost more than 100 hives this year, equating to about two thirds of its stock, said marketing manager Tom Hunt.
The bees are needed to pollinate crops and the honey is also sold in the farm shop.
The Italian bees cost £10,000 and were settled in their hives on Monday.
Last week, the British Beekeepers Association said the winter's losses of honey bee colonies were the worst since records began six years ago, with more than a third of hives not surviving the cold, wet conditions.
Mr Hunt said: "Up until about 18 months ago, we we looking in pretty good shape.
"We had lost only about 5% or so of the bees we had.
"However, with the way the climate has gone over the last two springs and summers... we have lost 102 [hives] out of 150.
"There are some areas that have lost entire colonies of bees and there isn't a single bee left."