Arnold Grayston's charity circumnavigation of Wales by boat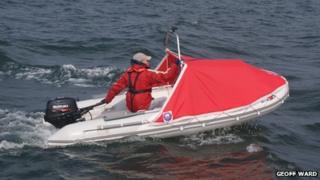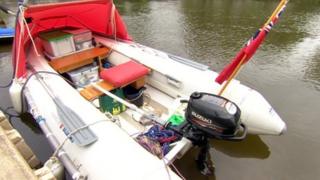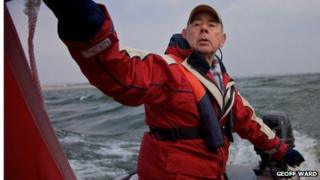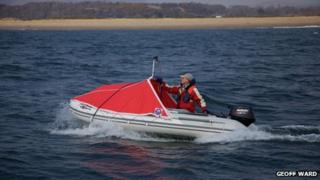 A 73-year-old man has completed a 500-mile (800km) journey around Wales in a rigid inflatable boat (RIB).
Arnold Grayston, from Shropshire, made the trip to raise funds for the hospice where his wife died from cancer.
The 23-day journey, using canals, rivers and the sea, began and ended at Welsh Bridge in Shrewsbury.
"The canals are nice but mucky and create their own problems, but the sea is the big challenge, and I felt very stretched at times," he said.
'Daunting challenge'
The route took him down the River Severn and into the Bristol Channel via a deep water channel called The Shoots that is only negotiable at low tide.
He went around the coast of Wales, including Anglesey, before joining the canal network at Chester, to travel down the Shropshire Union Canal and the Montgomery Canal.
The last leg was on the River Morda, the River Vyrnwy and along the River Severn back to Shrewsbury.
Mr Grayston slept on the 13ft (4m) RIB under an awning, which he said was like living "in a Rubik's cube".
"You have to move everything around to sleep and then you have to get it ready the next day," he explained.
His son Gavin said the journey had been a "daunting challenge" for someone of his father's age.
"The coast around Wales is known to be very treacherous - a lot of very strong currents, a lot of rocks, places where you can't put in so you've just got to keep going no matter what," he said.
'Couldn't stand up'
Mr Grayston remembered one particular incident when he had made an early start to get around the "notorious" north coast of Anglesey.
"The wind picked up and there was a sea coming across Liverpool Bay, which I wasn't expecting.
"It wasn't dangerous but it was very, very hard and I knew I couldn't go back anywhere - I really had to fight every wave," he said
The day was so physically hard that he "couldn't stand up straight when I eventually got [to Conway]".
His wife Karen was cared for in the Severn Hospice in Shrewsbury before she died from cancer in 2011.
Mr Grayston said she asked him on the day before she died to do something for the hospice because "they were so good".
"I don't know how much money we've raised - I've just been doing the job," he added.
Norma Ross, appeals director at Severn Hospice, said: "Arnold's epic challenge epitomizes the commitment the hospice receives from many relatives touched by our care."