Shropshire and Telford & Wrekin councils 'should merge'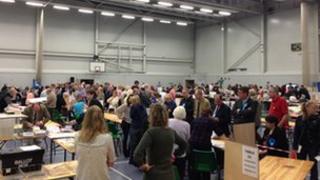 Shropshire and Telford & Wrekin local authorities should consider a merger in a bid to cut costs, a councillor has said.
Shropshire faces £95m of cuts over four years, while Telford & Wrekin has £50m of cuts planned over the same period.
Andrew Eade, leader of the Conservative group at Telford, said a merger could benefit both unitary councils.
Labour, which controls Telford & Wrekin Council, said there was no evidence it would reduce costs.
Mr Eade said: "Telford & Wrekin shares barely any services with any other local authority.
"Now in this day and age I do raise the question of why we have a small unitary authority like Telford and Wrekin, which is duplicating the costs of another council in Shropshire.
'Lose control'
"Surely now is the time we should be looking at one local authority for Shropshire."
Conservatives retained control of Shropshire Council in elections last week.
In contrast, Labour lead Telford & Wrekin and councillor Bill McClements, in charge of finances, disputed Mr Eade's suggestion.
He said: "If you compare unit costs of our different services, generally we're lower than most of the West Midlands.
"If we join up with other local authorities we could actually increase our costs if you purchase on a West Midlands basis, or Shropshire. It doesn't necessarily give you economies of scale and you can lose control."
Shropshire Council would not comment on Mr Eade's proposals, although leader of the Conservative group Keith Barrow tweeted that it could help save money and he had an "open mind" on the issue.