Telford faces up to child sex abuse cases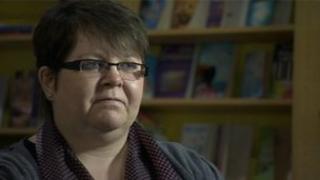 Child sex abuse will continue to be a problem in Telford, according to a local support group.
It follows the end of a series of court cases relating to a child prostitution ring.
"It's very easy to think once the court case is done, that's the end of the problem and that's not the case," Tam Sheen said.
She set up the Calla charity in Telford to support victims and their families who came forward as part of West Mercia Police's Operation Chalice.
The investigation has seen seven men jailed on charges including rape, trafficking and prostitution, sometimes involving girls as young as 13.
"I think it's still an issue in this area, from what we understand, but the more attention is drawn to it, the better," Ms Sheen said.
Telford and Wrekin Council said about 180 young women had been referred to the local authority since 2008, who had "showed some indication of being at risk from sexual exploitation", although not all directly connected to the sex ring.
It said some of the women had needed "an intensive level of support".
'Lives on hold'
West Mercia Police said more than 100 young girls could have been targeted specifically by the group between 2007 and 2009.
A trial in 2011 collapsed after three months and the men were due to be tried separately last year, although five of them ended up pleading guilty.
Ms Sheen said the delays had frustrated victims and families, who had been forced to put their lives on hold.
"They've had to wait to see the men sent down and you can't get on with your life. It's almost like being held in a vice," she said.
A ruling by the Court of Appeal on Friday means the case can now be reported in its entirety.
During the trials, the courts heard many of the girls had been particularly vulnerable.
In sentencing two of the men - brothers Mubarek and Ahdel Ali - Judge Patrick Thomas QC said they had targeted children "already gravely damaged by their experience of life".
During their trial, Worcester Crown Court heard evidence from one girl who was forced to have sex while four months pregnant.
'Felt dirty'
She told the court she had been sold to workers at a fast-food restaurant in Telford.
"The most I had sex with during one trip was four people - I had sex with a lot of men," she said.
"I don't remember why. I did not want to do it. I did not like doing it. I did not get any benefits from it. I felt dirty."
Another girl, who was 13 when Ahdel Ali started having sex with her, said she had asked him to stop.
Despite that, Judge Thomas said the girl did not consider herself as a rape victim.
'Loverboy' technique
That has been a common theme, according to Calla.
Support worker Heidi Wiedeman said some of the men had used what was sometimes called the "loverboy" technique, slowly building up a sense of trust and making the girls believe they were in a relationship before pressurising them into sexual acts, first with the abuser himself and then with other men.
Laura Johnston, director of children and family services at Telford and Wrekin Council, said the department had adapted its procedures to help the girls.
She said: "We knew the traditional child protection processes were not going to work here, because the girls did not see themselves as victims.
"So rather than bringing in social workers, which we'd normally do with this sort of child abuse, we were working very closely with youth workers, for example, who were able to build good relationships with the girls and develop a sense of trust."
She admitted the local authority had needed to improve what she described as a "fragmented" approach when the cases were first reported.
However, she said work done before 2009 was partly responsible for the allegations coming to light.
Issues of grooming were first highlighted by local schools, which noticed changes in some girls' behaviour, attendance and appearance.
Det Ch Insp Neil Jamieson, who led the investigation for West Mercia Police, said it had been a "real ordeal" for the victims, particularly those who had given evidence.
He said he hoped the convictions would "go some way to help them move on with their future lives".