Pheasant terrorises Shropshire family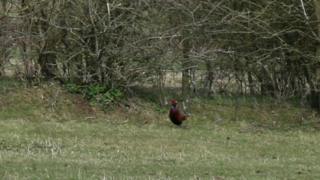 An angry pheasant is terrorising a Shropshire family.
Sally-Ann Hudson, from Wentnor, said it all started innocently enough, four months ago.
"At first we didn't take much notice of him at all, we just saw him around. But then we gradually noticed he was coming closer and closer to the house and spending more time around here," she said.
"He then started following us and looking in through the windows."
Phil, as the Hudson family have named him, then started to show a more aggressive streak and quickly developed a dislike for the sound of their coal scuttle being filled.
"One day my mum was filling it and he flew over the fence and clung to her head. He had his claws impaled in her hair and that was quite scary," Ms Hudson said.
"That's when it first started, the attacks."
'Peace offering'
All three members of the family have been ambushed by the wild bird, suffering scratches, pecks and often forced to pull him away from their arms and faces.
Strangely he is frightened around visitors and reserves his violent side for the family alone.
Even a peace offering had the opposite effect, Ms Hudson said.
"I started to feed him bread, just recently, just sprinkling crumbs around, trying to befriend him.
"He started off quite friendly... but then it's almost like he's putting his fists up to me, hopping back and forth
"He'll just have a go at me then, he'll launch at me, peck my feet or attach himself to my arm and just try to attack me."
Her car is also a favourite target, and Phil has graduated from simply following it, to all-out attacks.
Ms Hudson said: "I would see this pheasant jumping on my bonnet. As I started to drive away he would slide off, but then chase the car down the road, pecking and squawking and attacking the car."
On one occasion he chased the car some 500 yards (460m) and when Ms Hudson tried to speed up, Phil took to the air to continue his pursuit.
Animal lover
Now, if the pheasant seems particularly aggressive, Ms Hudson is forced to wear gloves or carry a badminton racket around with her when going outside, to fend off his attacks.
Phil has also recently developed a habit for waking up the family in the early hours.
Ms Hudson said: "I heard this terrific bang downstairs and it just carried on and on. I couldn't work out what it was.
"I got up and went down to see what was happening and it was him, head-butting the French windows."
She said people had been quick to offer advice, some suggesting shooting the bird, while others threatened to report her for animal cruelty.
But for resolute vegan and animal lover Ms Hudson, there is no simple solution.
She said the situation could get even worse over the summer when the family are spending more time in the garden.