Much Wenlock police open fire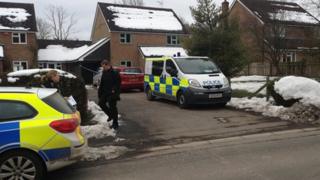 Police in Shropshire have opened fire after a man threatened them with what appeared to be a handgun.
One shot was fired by officers from West Mercia Police in Much Wenlock during the incident at 16:25 BST on Sunday, a spokesman said.
He said a uniformed patrol was threatened by a man who the police say appeared to be carrying a firearm.
The man, in his 50s and from Telford, was arrested and has been detained under the Mental Health Act.
Dog units and armed response officers were called in as the man tried to enter a house in Stretton Road.
'Tackled by dog'
The spokesman said: "Again, he appeared to threaten officers with a handgun and a shot was fired by an armed officer.
"The round did not hit the man and he was arrested shortly after being tackled by a police dog."
The man is being treated for dog bite wounds at Princess Royal Hospital, Telford.
A handgun was recovered and investigations are continuing.
West Mercia Police has referred the matter to the Independent Police Complaints Commission - routine in cases where officers have used firearms.