Shropshire Sheep are officially 'no longer rare'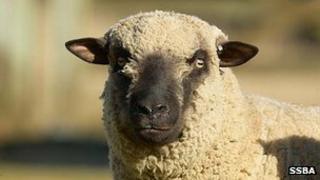 The Shropshire Sheep is no longer considered a rare breed.
The Rare Breeds Survival Trust (RBST) has removed the sheep from its annual watch list of native breeds "of genetic conservation importance".
The RBST said the breed had experienced a "resurgence in its fortunes" with almost 4,000 UK ewes now registered.
The Trust said the Shropshire Sheep had become increasingly popular with Christmas tree and fruit tree growers in the UK and across Europe.
Its managing director Rob Havard said: "The success of the Shropshire Sheep due to the breed's unique grazing abilities must show that we have to look at the specific qualities of our native breeds and find roles to enable them to play their part in sustainable farming."
Increase of 500%
He added: "With ever-increasing fuel costs and restrictions on the use of pesticides, growers are becoming more interested in alternative methods of weed, herbage and, in some instances, plant disease control, all of which Shropshires can help with."
The annual watch list was revealed at a RBST event attended by The Prince of Wales, who said he may consider establishing a flock of Shropshire Sheep himself.
The Shropshire Sheep Breeders' Association welcomed the news and confirmed the breeding population had increased from fewer than 500 in the early 1970s to over 3,000 in 2012.
This is an increase of 500% and even higher 2013 figures are expected.
Its president, Liz Bowles, said the breed has seen increased interest from people new to farming as well as established farmers looking for lower-input livestock.
She added: "Shropshires are hardy, prolific and produce excellent butchers' lambs from low inputs - traits that are important to today's commercial sheep producer."
Shropshire Sheep are the oldest breed of British farm livestock to have officially recorded pedigrees. The breed society was established in 1882.