Ironbridge Jiggers Bank road closed until June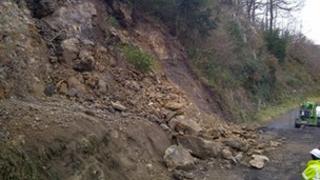 A Shropshire road which was closed in November by rockfalls is expected to remain shut for three more months.
An emergency closure of Jiggers Bank in Ironbridge took place after rocks fell onto the road following heavy rain. It was followed by further rock falls.
Telford and Wrekin Council said the "scale of works" needed to stabilise the area meant Jiggers Bank would be closed until June.
"Every effort is being made to reduce the length of this closure," it added.
Engineers believe the rockfall was caused by a combination of heavy rain followed by cold temperatures.
"The proposed solution will include re-grading the rockface, earthworks, installing netting and anchors and landscaping of the site," a council spokesman said.
'No quick fix'
A planning application has been lodged for the work around the Ironbridge Gorge World Heritage Site.
Hilda Roads, cabinet member for transport and community protection at the Labour-run council, apologised to residents for the disruption caused.
"We completely understand the urgency to get Jiggers Bank reopened as soon as practically possible but we are faced with a unique and serious situation in terms of devising a sustainable solution to secure the rockface," she said.
"I hope residents understand the necessity of us taking our time to get it right and that a quick fix could only make the situation worse. The safety of road users is our top priority."
Churchill in Ironbridge is also soon to close for three months to stabilise the highway.