First Bridgnorth food bank to help 'desperate need'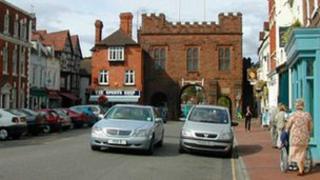 A food bank has opened in Bridgnorth to help what those behind the project say are people "desperately in need".
The food bank, the first in the town, will provide free food essentials to people referred from the Citizens Advice Bureau, GPs, Home-Start and Job Centre Plus.
It is being run by volunteers from various churches in the town.
Pastor Stephen Derges from Bridgnorth Baptist Church, said he had seen a number of people "desperately in need".
Census data shows the number of unemployed people in Shropshire increased by 46% between 2001 and 2011, to a total of 7,350.
Figures from national food bank charity the Trussell Trust showed that last year food banks fed 128,687 people in the UK.
Jackie Jeffrey, chief executive of Citizen's Advice Shropshire, said there was a "clear indication" that increasing numbers of people they saw were in need of food and were referring many to food banks.
"With the cost of living and rises in utility bills beyond inflation, there are more and more pressures on people's incomes and it is the food budget which gets squeezed the most, " she said.
However, those behind the Bridgnorth service said they expected uptake of the new project would be gradual.
Pastor Derges said: "I don't think we'll be inundated to start with. Ludlow food bank found it took a couple of yeas before it really made an impact."