Shropshire braced for further flooding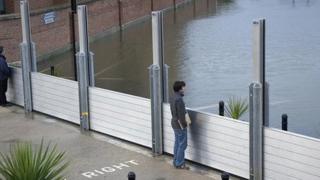 Flood defences have been put in place in Shropshire amid warnings of further heavy rain.
Barriers were assembled in Shrewsbury in the early hours as river levels rose because of melting snow and heavy rain.
The Met Office issued a yellow warning for heavy rain expected on Tuesday.
A spokesman added: "Given saturated ground, the public should be aware that further localised flooding and disruption to travel is likely."
A number of flood warnings have been issued for rivers in the county including the Severn at Shrewsbury and Ironbridge and the Vyrnwy at Maesbrook.
The second phase of Shrewsbury's barriers were put up earlier, while Frankwell and Riverside car parks are expected to remain closed on Tuesday.
Flood barriers were expected to go up in Ironbridge, with phase one implemented and phase two due at about 08:00 GMT on Tuesday.
The Environment Agency said about 50mm (2in) of rain was expected over the Welsh hills in the next 24 hours, which, coupled with melted snow could have a considerable effect on river levels in Shropshire.
Al Watson, from the agency, said he was expecting flood levels similar to those at Christmas and new year.
Several roads were affected by heavy flooding, including the A41 at Whitchurch.
'Clear the furniture'
Dave Throup, from the agency, said: "We are urging people to remain very vigilant and check local radio and our website for the flood warnings because we do expect things to be changing quickly."
Chris Ballantyne, landlord of The Boathouse on the River Severn, said: "The waters came up very suddenly and we're watching and waiting to see if we need to use our flood defences and clear the furniture from the function room, which flooded only a couple of weeks ago."
On Sunday, homes in Ellesmere, Market Drayton and Whitchurch were isolated by floods, while roads in Shrewsbury were also cut off.
Mario Giorgio, who lives in Ellesmere, said flood water was almost 3ft deep on Sunday, with it covering the seats of his car.
He said it was the third time in recent years that homes in the area had been affected by flooding.
The same day, Shropshire Fire and Rescue Service helped flooded residents near Whitchurch, attended a car stuck in flood waters near Powys, and assisted with stranded sheep in Oswestry.