Telford and Wrekin Council to promote its own tourism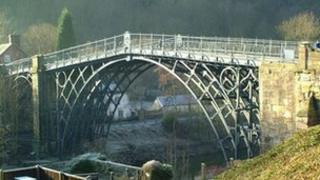 Tourism promotion for the area boasting the Ironbridge Gorge World Heritage Site is to be taken over by the local council.
Telford and Wrekin Council previously shared national promotion with Shropshire County Council.
But the council has said Telford and Wrekin is "maturing" into a destination in its own right.
The Shropshire authority has agreed with Visit England to become a "Destination Management Organisation".
Organisations with that status around England share expertise and information on national and local tourism issues.
Shropshire Council and Telford and Wrekin Council had previously been jointly represented by one person.
'Not declaring independence'
Telford and Wrekin Labour councillor Clive Elliott said the area was the economic hub of the county and the council wanted recognition for its attractions.
Mr Elliott said: "Most businesses are here but we also have a very green space as well.
"Telford and Wrekin has the jewel in the crown in Shropshire, and some would argue in Britain, in the Ironbridge Gorge World Heritage Site.
"What we're trying to say is as [Telford] matures as it is now that we become a destination in our own right.
"It's not about saying we're declaring independence.
"It's more an operational change in that we're working with Visit England directly rather than going through someone who represents us.
"It's about saying come to Shropshire and come to Telford and Wrekin."